"About 40 percent of Filipinos live on less than US$2 (€1.28) a day, and about 13 percent — or 11 million — survive on less than US$1 (€0.64) a day." ( ) 1 in 3 people are considered to be living in poverty in The Philippines. (Rural Poverty Portal)
Here is YouTube vid about Poverty in The Philippines, featuring "The Apl Song" by Allan Lindo Pineda of the Black Eyed Peas.
Another video called "Philippines' children in poverty" by DAYNYCSFO has a beautiful song, which lyrics I'm not able to translate completely, but the chorus talks from the point of view of a child that is poor, wanting to play with the kids that go to school, so they can feel like they are also going to school, like normal children.
There is a part in at the end of the song, that says, "Bata ren ako." (I'm a child too.) It's a very touching message. The video blogger goes on to write at the end that "Education is the key to unlock the poverty in The Philippines." I truely believe this to be true. That is why I was drawn to supporting Pearl S. Buck Foundation International & Opportunity House, because they provide education to the poor. In a small way, our combined efforts can help one or more of these children.
So, please, please, please, help Mabuhay Project raise money for Opportunity House, telling your friends and families about the charity collaboration - Crop Dreams. It is a beautiful refreshing kit, inspired by the agriculture, people and island culture of The Philippines.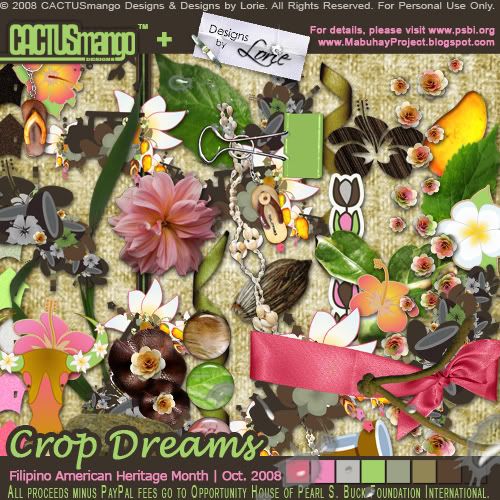 Your donation and all proceeds (minus PayPal fees) will be donated online to Opportunity House. If you would like to donate directly to Opportunity House, click here.
Thank you for reading about the global issue of poverty.
Sincerely,
CACTUSmango Designs - Blog Action Day Participant
Blog Action Day. What is Blog Action Day? Blog Action Day is an annual nonprofit event that aims to unite the world's bloggers, podcasters and videocasters, to post about the same issue on the same day. Whose aim is to raise awareness and trigger a global discussion.
One Issue, Thousands of Voices
Global issues like poverty are extremely complex. There is no simple, clear answer. By asking thousands of different people to give their viewpoints and opinions, Blog Action Day creates an extraordinary lens through which to view these issues. Each blogger brings their own perspective and ideas. Each blogger posts relating to their own blog topic. And each blogger engages their audience differently.
Please visit http://blogactionday.org for more information.
Blog Action Day 2008 Poverty
from
Blog Action Day
on
Vimeo
.
Here is a 4x6 brag book quick page as a thank you for your support. Download it >
here
<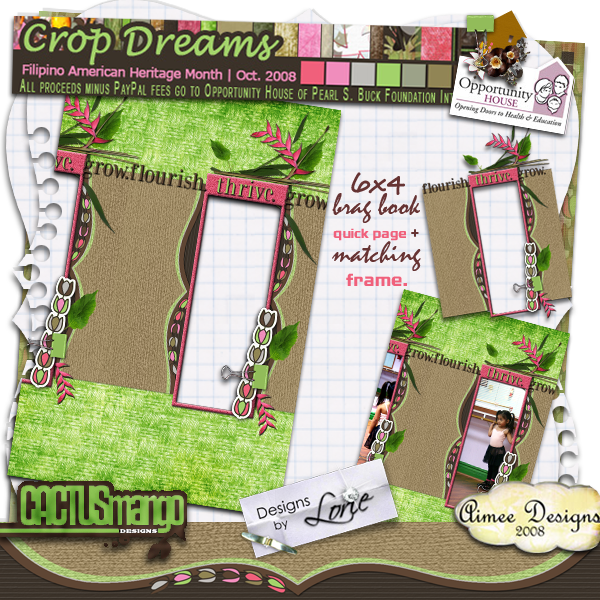 Also, visit Lorie Manlapaz's blog to download her lovely Crop Dreams 6x4 brag book quick page >
here
<