It's the 2nd annual
Digital Scrapbooking Day on Nov. 1st
and all of digi/hybrid scrap world is busy busy busy gearing up for all the inspiring and whackadoodle fun to be had.
Here's just a few things I'v surfed around the net:
Digital Scrapbook Magazine
- Blogheader (I'm afraid the deadline is today!), Laptop Skin and Zazzle Keds shoe Design Contests! I've entered the blogheader and shoe contest so far...working on my laptop skin...would love to share what I've made, but i'm afraid if I do, it might be grounds for disqualification...so...instead, here's a link to their official gallery at the Creating Keepsakes website >
http://www.creatingkeepsakes.com/index.php?option=com_zoom&Itemid=28&catid=90341&page=viewproj
and these are ones I included, just for show & tell because I made these back in August >
http://www.creatingkeepsakes.com/index.php?option=com_zoom&Itemid=28&catid=90191&page=viewproj
so they don't qualify, since entries need to be brand new designs and I CAN show these, they're called Pretty Posh.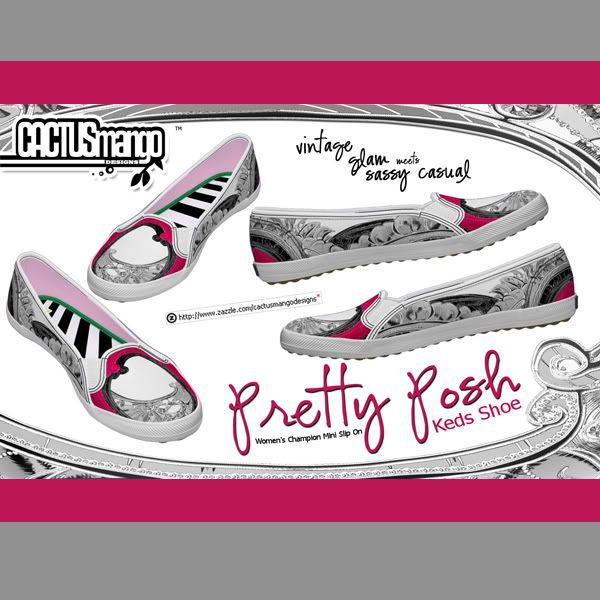 Now, i'm a
tsinelas
kinda gal myself. but, these are a pair I'd be happy to wear with shorts or jeans and a white or hotpink shirt anyday!
they are in my zazzle store now...give it to that funky galfriend of yours for christmas! high step on over to my shop why dontcha!? I have a whole line of Posh shoes and even some fun kids shoes, skateboards too!
http://zazzle.com/cactusmangodesigns
(please include the cute star. "when you add an asterisk (*), as in "zazzle.com/username*", it becomes a referral link. That way, the store owner can earn up to 7% of sales - on top of their royalty - just by using this URL. We call this feature the "Zazzle Star". Pretty cool, eh?!")
DSM has also paired up with
Scrapblog
to host a Holiday Greeting Card challenge! you could win 50 prints of your own custom holiday greeting card design. The deadline to enter is November 1, 2008.
Fun @
Digitals
aka Digital Scrapbook Pages: They're have crop/chats lined up with freebies and getting to know their designers.
DigitalArts Cafe
is having games on their forums!
Scrap Orchard
is having a scavenger hunt! among other things...
A Cherry On Top
has chats/freebies and giving a limited edition grab bag!
These are just a few that I ran into, but also check out the main site here for MORE DSD activities!
http://susanwhite.typepad.com/digital_scrapbooking_day/digital-scrapbooking-day-2008-events.html
Over at Kjoistudios, we're still cooking up a plan, but I have just thrown myself into the kitchen offering to host a chat for the first time EVER! I have to figure out what prize to give! what time to host the chat...etc...maybe someone could give me some suggestions? wishes? Ok...i'm really getting out of the office and onto the couch to enjoy our latest Netflix arrival Golden Compass...I think this was one of my picks. Hope it's good!