Congrats to the winners of the Sept. + Oct *I Will Survive* Lyric Challenge!
They each one a trip to the K-Joi Studios Prize vault.
Oh my goodness oh gosh oh golly! I've been honored by the
DSM blog
peeps with a runner-up prize for my blog header entry! Wooooooohooooooo!!!!! For my efforts they've gifted me with two kits from
Pixel Canvas
. They're stuff is gorgeous and I can't wait to see what I get! :D :D :D :D :D :D Hop on over to the
DSM blog
to see Amanda's numero uno blog header and all the fun hybrid project ideas and beautiful freebies!
Speaking of freebies...i made one this morning, to give away during my first EVER Chat...no, not the first time I chatted...but, the first time I've HOSTED a chat! oh it was loads of fun and my little chatroom guinee piggies made my virgin hosting gig easy to enjoy!
Congrats to Shelli - winner of the "Left Over Candy" chat game ! Everyone had multiple guesses, but she was able to guess it right on the money! I crammed 67 starbursts in that glass!
She won this super cute set of custom boutique bows
handcrafted by Margie at
http://luvabows.com/
!!! These are real bows not digital embellishments and Shelli will get these in the mail next week and plans on giving them to her grand daughter! lucky gal :) Big thanks Marg!
Our Second winner is Creatively Obsessed !!!!!
she was the fastest scrapper this morning during the "Scrap It while It's HOT" cha, where everyone had less than 30 min to make a brand new halloween layout with any kit of their choosing. She whipped out a brand new halloween layout first
Monster House
using Dawn Inskip products. Her prize is all my Bizarre stuff at kjoistudios, including my new 8x8 quick page kit that fits in an 8x8 Shutterfly album.
Here's the quick page I made for all the chatters and now you too. ;)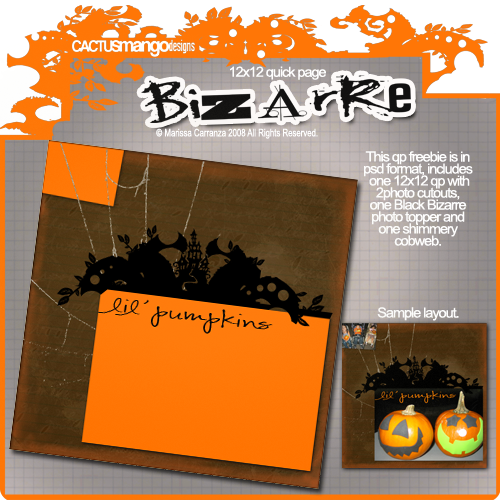 Kara joined in the fun, fortunately after we talked talked about snakes and other slithery creepies and she squeezed in a page too using the chat freebie! Woohoo! go kara!