...in the form of Zazzles fresh off the presses custom shoes. I'm thrilled!!!! Designing the Dr. Martens boot was fun...but with Zazzle, now I can take control and sell my own dang shoes! I can't believe this! It's awesome!


Here's the lovely newsletter that I found in my inbox, after seeing that I've been squashed down to spot 24 today by the annoying "Goon Boot" squadron. This surely brought my spirits up high. I'm eyeing the blank canvas of the Women's Custom Mini Slip-ons! Oh what JOY!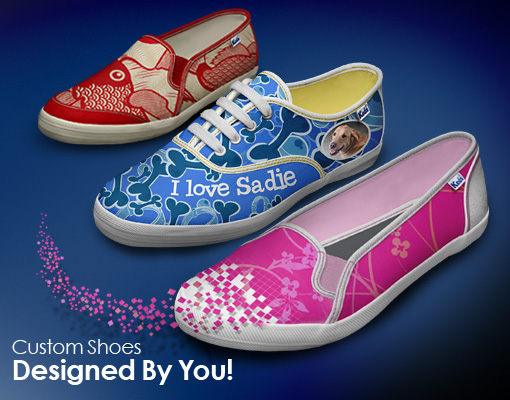 First EVER Custom Shoes
Zazzle, the world's best website for print-on-demand products, is the first and only to offer a new technology that allows you to create shoes from your own artwork and photos instantly. Start designing a Zazzle custom shoe today to see the true power of self-expression!

Learn More »

Custom Shoes by Contributors
Check out these custom shoes that were just created by Zazzle contributors! You can create your own custom shoes
here
.

Crazy Kids Shoe
by
shoecreatives
Stars and Stripes
by
KRWFancyFeet
Little Pinkie Kids Shoe
by
TheSpottedOlive

Find it on Zazzle:
Zazzle, the Zazzle logo, Zazzle Custom Stamps, and Zazzle Profile Cards are registered trademarks or trademarks of Zazzle.com, Inc. in the United States and other countries.
*update added Thursday, July 31st* This morning I jumped out of bed, and logged into zazzle! I spent all morning and ignored my tummy grumbling at me, just to put together my first pair of KEDS!!!!! I submitted it to the zazzle admin for approval and I can't WAIT until my shoe goes live! Here's a preview of my jazzy bright Urban Island women's slip-ons.
I can see myself wearing these with layered white, green and pink tank tops with denim shorts or a solid colored mini skirt.
I tried to make a plain jane simple girly girl shoe, but I still think this is a bit more rebellious looking. I designed it with my neice zoe in mind. She's like most girls who love love pink, but has a harmless mischievious streak too. Maybe it runs in the family...LOL!
For, these second pair of keds, I used the Womens mini slip ons. I call them ZOez Stripe.
The stripe is a standard pattern available on zazzle. But the black shiney trim above the toe and flourish on the sides are from the Black Vintage Frame I designed for digital kit Posh Picnic available at CocoaDaisy.com
I can't wait 'til mine are in my zazzle shop! I just checked right now, and it's still not yet in my store. I think it takes 24 hours for the Zazzle admin to approve of the designs. I wish it was like at cafepress, where your product goes live as soon as you submit it.
Well, Listen, You've got to try the custom Keds at Zazzle. Make a pair for your artistic child, using their own art! Of if you don't have any art of your own, they have basic patterns all ready for you to customize. It's so fun and easy. I also love the Happiness shoe by
Bill Oneil.
Check out his Atomic Creations zazzle shop for inspiration and to shop!