I haven't worn much jewelry since my little one came along. She's already got a rap sheet *yeah long* for pulling apart beaded jewelry. So, when I saw this bracelet at Forever21 while out with my buddy Ninette...I thought, "Perfect!" It has a modern, yet ethnic feel to it. The varied types of wood reminds me of the old furniture in my families ancestral home in the Philippines, that had tiny pieces of inlaid wood done in intricate patterns. The fun mix of colors can go with virtually everything in my closet and it'll be much harder for my daughter to accidentally break it...i hope.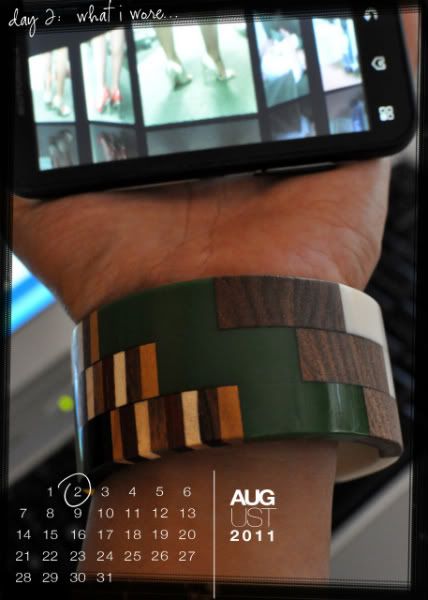 credits: *paislee press 2010 calendar stamp, that i modified for 2011. *overlay edge stax by Kim Liddiard and *hand drawn circle doodle by me.
I dare not wear chandelier earrings or any necklaces now either. Speaking of "daring not to wear...", stilettos. Those things are deadly. In the picture above, I'm holding my camera to show the stilettos Ninette & I tried on at the mall, just because. I had to hold onto the shoe rack for dear life posing for these shots. My fave are the red ones my friend posed in. So hot! Well, I can say I wore stilettos, even if I can't walk in them!
*it's actually day 4 of the challenge...I'm catching up!